CLEOPATRA THE PIG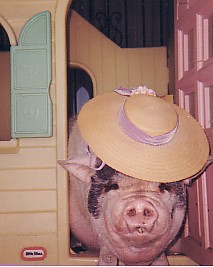 ---
thoughts and reflections of a pig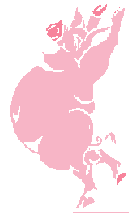 I am a Pig ... I like apples and cookies along with my special pig food,I like my happy little house.In the summer when it is hot,I like to take mud baths in a special spot I made with my snout,rooting the mud till it was just right. when it is cold in the winter I like to sleep under alot of blankets,and snuggle. I am a pig,a beautiful pig at that,and I think my friends Elvis the dog and Pugsy the cat would agree,there is no pig as pretty as ME! Since I was a little piglet I always had fun,playing in the garden. I like to smell the roses in the springtime. My porkine dreams are of pig things.......I never worry,I just am myself.....I dream of delicious tidbits that my family gives me, I like to hear their voices,they call piggy!time to get up for breakfast,when I sometimes sleep in late.ah yes the life of a swine... ah this happy life of mine.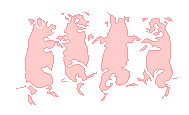 The IronWood Pig Sanctuary has quickly grown to satisfy the overwelming need to provide shelter for unwanted pot bellied pigs
please click on the link to visit The Ironwood Pig Sanctuary website!
GO TO THE IRONWOOD PIG SANCTUARY WEBSITE